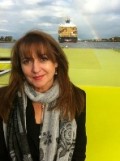 Jane Johnston is a Kundalini & Hatha trained Yoga teacher and is also a Hypnotherapist.
Jane's classes include a short warm up, breath relaxation, guided meditation, wake up breath and movement.
This class will focus expelling negative beliefs and behaviors and focusing on your intention. ie. using positive Mindset to set direction. Working on that dream of yourself, you have in your Mind's eye.
A great way to start your day and focus your life!
Guided meditation classes take you to that natural state of mind , complete clarity deeper consciousness, centre and balance. This produces the most incredibly powerful results in your ability to promote and create quick change. Promoting mental health and well being affecting physical healing on all levels.
Jane is a qualified Meditation Relaxation Specialist and Hatha and Kundalini Yoga teacher. Her thesis for her International Kundalini Yoga Instructor Certification focused on the science of meditation.
Jane has over 10 years experience as a qualified Hypnotherapist, Meditation, Relaxation Specialist and Yoga teacher. She has a variety of professional qualifications in Hypnotherapy and Meditation from Buddhist, Transcendental, Kundalini Mantra, Guided and Breath work with Australian Clinical Hypnotherapy and works with the experience of Maggie Wilde and Dr Rick Collingwood PHD, two of Australia's leading and internationally renowned Hypnotherapists. Jane has also studied the Mongan method of Hypno-birthing.