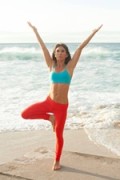 Byron born Alice Browning is no stranger to growing up in the land of mindfulness, tofu and yogic intention, however like most – the beautiful union of life versus yoga only truly began when she was ready to receive it. Coming from a strong dance and performance background, Alice was inspired by the power of movement however it was her journey and desire to encompass both a spiritual and emotional practice, that lead her towards becoming a yoga teacher. As in every great love story- the perfect combo was found.

Since completing her 200hr Power Vinyasa Yoga teacher training under the guidance of Julia McCabe in 2013 before a further 300 hr in 2014 and Mindfulness and Yin training with Sarah Powers in 2015, Alice imparts this passion and guidance, taking her students through a safe and explorative practice where their mat is a sanctuary and their life sees the benefits of such dedication and teachings.
Alice has this unique ability to guide a class with humility, calm and humour- whilst instinctively tapping into the yogi's inner dialogue of self-doubt, turning the "I can't" into "I'll try".
"My goal as a yoga teacher comes down to one thing, to change your perspective of what you think you are capable of"