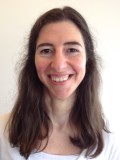 'When I first met Rob, I was looking for answers. I didn't have a clue about Yoga. It was 1998 and I was studying Acting at the VCA and when our movement teacher, who'd studied with the best in her field around the world, said that she'd been to see all the main yoga teachers in Melbourne and she thought Rob was the best, my ears pricked up.
I had no idea what I was in for. Some far out physical contortions, maybe? But when Rob started talking to the class I couldn't believe my ears. "Why doesn't anyone else talk about this stuff?" I thought to myself.
It was like he'd reached inside and found the core issue of all my problems and at the same time made me feel ok about it – even laugh about it. And from that moment my life started to change for the better. And as I worked hard and experienced all the changes over the years I felt so grateful I wanted to do whatever I could to give back.'
From 2000 Theresa's various roles at Yogareal have included: assisting at classes, helping on the front desk, teaching (from 2001), cleaning, managing, marketing, retreat/event management, administration and any of the day to day requirements involved in helping to run the Studio.
She feels blessed to have had the opportunity to experience what's most important in life and does the best she can to help others do the same.