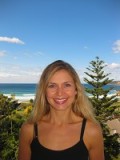 I began working in the body-mind health field over ten years ago when I trained as a remedial massage therapist at the New Mexico Academy of Healing Arts. At the same time I had the equivalent of my "first kiss" with yoga sitting in a community class at Yoga Source learning Ujjayi breathing. It transported me into a place of stillness and expansion that guided me through my first ever Ashtanga Primary Series. As a ballet dancer since the age of five I felt I'd discovered the most amazing dance that followed the music of my breath and internal world...and I was hooked!
Since then I've worked with hundreds of people therapeutically as a remedial massage therapist, gaining first hand experience with a myriad of physical pain, postural issues and energetic stagnation. My love affair with yoga grew and changed as I explored various styles from Ashtanga to Iyengar to Hatha Vinyasa all around the world, but always my practice brought me solace, clarity, peace and a connection to self that I've come to see as integral to health.
I trained to be a yoga teacher at Yoga Vidya Gurukul in Maharashtra, India which follows the Satyananda tradition of Hatha as well as traditional Raj Yoga. I completed my Bachelors of Environmental Science at Portland State University, did extended studies of anatomy and physiology through the University of Massachusetts Amherst, and am currently completing a nine month yoga anatomy training with renowned author Leslie Kaminoff. I've never stopped dancing, although it has shape shifted from ballet, to modern, African, contact, raves, swing and salsa, and health through motion has become one of my mantras.
In my Hatha Vinyasa Yoga classes at Qi Yoga you'll be guided into finding your own dance of mindfulness with breath, mind and body. My classes are strong and challenging but lighthearted and accessible for a range of experience levels, and will leave you feeling worked-out and serene. When I do one-on-one therapeutic yoga I design a short sequence targeting the individual's specific needs, abilities and intentions that can be incorporated into their daily life. Private sessions always include a one page worksheet with photographs and explanations of the sequence we created.
I believe our intentions and beliefs inspire every action, and therefor are one of the most important parts of a yoga practice and life. I love hashing out and dissecting the wisdom of ancient yoga philosophy and applying it our modern lives. You can find these queries in my fortnightly yoga blog www.yogawithmorgan.wordpress.com.
"Man today is sick because he thinks he is sick. Sickness and disease have no place in the life a person who does not accept and tolerate the self-limiting thoughts which are the real seeds of our myriad aliments. We stand hypnotized by the belief that disease and illness are our fate and destiny, rather than health and bliss, which are truly our birthright and heritage. In order to emerge from our mass hypnosis and collective hysteria and to experience health, joy and creative fulfillment, we must make a systematic application of yoga in our daily lives." ~ Swami Satyananda Saraswati