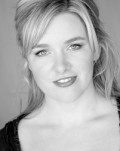 Kylie was drawn to yoga after undergoing some big life changes (becoming a mother and leaving the corporate world for a start!). She decided that it was time to lose some weight and have a break from the baby - and it was one of the best decisions she has ever made. 
The benefits of yoga were huge; not only did she discover the many positive physical effects, but she felt a vast improvement in her emotional life and wellbeing. And so her love affair with yoga began. Kylie became a qualified teacher through Qi Yoga. 
She has also incorporated Dru yoga into her teaching, meaning her classes are gentle and accessible for any age and physical type. The focus is on breathing, releasing energy through vizualisations and song (Kylie is also a professional singer). 
Being a single mother, she understands the daily pressures of life and how challenging it can be to find balance, but with the help of yoga, it can be achieved! Come to Kylie's classes to be moved!