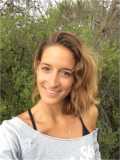 Jess has been teaching Yoga since she finished her teacher training with Qi in 2014.
Originally from Switzerland, she worked as a medical assistant in private medical centres into her mid twenties. She was always passionate about the body and how much we can achieve with breath, movement and the power of the brain.
Jess started Yoga while going through a hard time and needed a break from life. The only time she was able to find relief from the constant mind chatter was during her Yoga practices.
Drawing on her own experiences, Jess decided to become a teacher and create a safe, welcoming space for others. A space where one can take a break from life, coming back to basics such as the breath and complete body awareness leading to profound peace of mind.