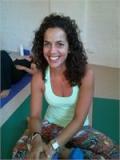 Carolina has been practicing Yoga for over 12 years and graduated from the prestigious Hatha Teacher Training at Qi Yoga Studio with Mark O'Brien where her Yoga has blossomed.
Her practice is founded on continuous exploration mixing passion, acceptance, curiosity and discipline. She is constantly looking for advanced knowledge aiming to widen and grow as a teacher; she is undertaking Mysan Sidbo's Yin yoga teacher training in 2014 as well as different short courses and workshops.
Carolina is a supportive and inspiring teacher, passing a sense of discipline yet with lightness, joy and ease.