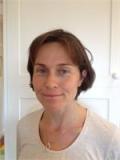 Alex is a highly experienced and certified Yoga Synergy teacher, a 3 year training apprenticeship that she undertook more than a decade ago. 
She has been practicing yoga for over 16 years and teaching in Sydney for 11 years. She regularly attends seminars and workshops and is currently studying the IYTA (International Yoga Teachers Association) Post Graduate Advance Teacher Training Programme. 
As the mother of three young children, Alex understands the importance of bring balance in our busy lives, using the physical body to connect the mind and the breath. At the same time, she believes that safely challenging the body, in a fun and intelligent way, helps create a strong, healthy body and a calm focused mind – not just on the mat, but beyond.